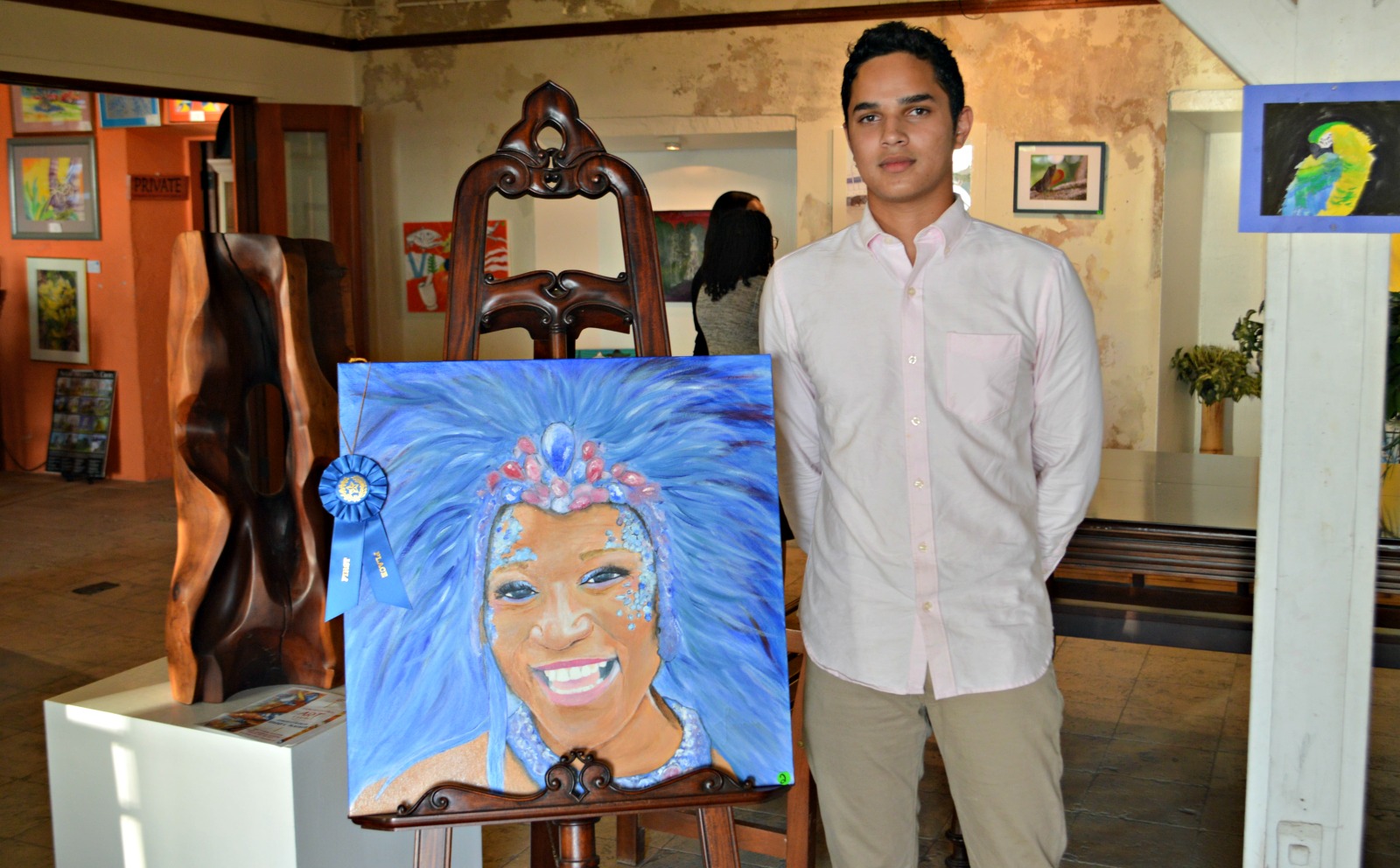 ST. CROIX — Julian Bishop, above, an 11th grade student attending the Good Hope Country Day School, won the Congressional Art Competition, a nationwide annual art competition initiated by members of the U.S. House of Representatives in 1982, that allows high school students from all 50 states, the District of Columbia, and U.S. territories to showcase their artistic ability.
The winning piece of art from each Congressional district is displayed in an eleven-month exhibit in the Cannon tunnel that leads into the U.S. Capitol.
The USVI's competition includes schools from both districts, with this year's winners being announced — and their art displayed — during an event hosted by Delegate to Congress Stacey Plaskett at the Caribbean Museum Center for the Arts in Frederiksted on Friday.
Mr. Bishop, 16, a vibrant young man with political aspirations, said he comes from a family of painters. His quest to win the competition began in 7th grade, when he was not allowed to place, but continued nonetheless through the 8th, 9th and 10th grades. His desire to win grew stronger, he said, because his sister, who is seven years his senior, had also won the competition.
Mr. Bishop spoke of paintings he drew before his vibrant, winning piece, which shows a face of a woman dressed in a purple carnival costume. The painting preceding the winning piece was one of an older gentlemen that was a bit dreary. This year, however, he wanted something alive. "Carnival dancers, what's more notable," he said. Mr. Bishop said he was not necessarily expecting to win, and would have felt good about simply placing. But winning the competition was special nonetheless, he said.
Although the competition has been ongoing for years in the territory, Mrs. Plaskett said her office has tried to expand it by hosting receptions that give the community a chance to see the students' work. "Later on we actually bring it [the winning art] to our office so that when people come in they can see the artwork of the children."
The VI Council on the Arts provides funding for cash prizes and a trip to Washington, D.C. for the winner and one guardian.
Image Credit: Ernice Gilbert, VIC